Retin-A

and

Renova

are both brand names for products with the active ingredient of tretinoin or retinoic acid or vitamin A acid. Generally speaking,

Retin-A

in its various strengths and forms are used for treating acne and

Renova

is used to treat fine wrinkles, spotty skin discoloration and rough feeling skin. Because the active is the same though, doctors prescribe them interchangeably sometimes.

Renova

is often the choice for dryer skin.

Many clients, with a suggestion from a physician, have tried prescription strength retinoids like Retin-A and Renova to mitigate the visible effects of aging only to find themselves not using them. Here are, what I believe to be, the reasons for this:

1. They experience irritation, called retinoid dermatitis; redness, swelling, breakouts, flaking etc. so they stop before improvement of condition/s can be seen.

2. They aren't getting support on how to use this complex skin care product properly (or they have forgotten) to minimize the irritation and maximize results. No one is looking at their whole skin care routine.

3. They don't realize that this has to be ongoing. To get the results, the product has to be used. Stop using the product and the effects are lost.

4. They are advised to use daily sunscreen or avoid sun and they know they will not.

5. They realize they can no longer safely do waxing for facial hair removal.

6. Buying and using such a product does not match their values.

I was surprised to read clinical trial data on Renova recently. 24% of patients saw moderate improvement in Fine Wrinkling (36% saw no improvement), 38% saw moderate improvement in Mottled Hyperpigmentation (35% saw no improvement) and 16% saw moderate improvement in Tactile Skin Roughness (49% saw no improvement). Most improvement in the categories was noted during the first 24 weeks of therapy and maintained thereafter with continued use. Details can be found

here.

Pretty lack-luster results for an expensive high-maintenance product with un-established safety when used for more than 48 weeks.

If, after consideration, you decide to proceed with one of these products, I suggest a 24 week trial to look for signs of improvement. During the trial, follow these best practices:
Powered by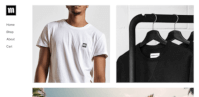 Create your own unique website with customizable templates.
Photos used under Creative Commons from Pen Waggener, Brett Jordan